800 Episodes: Popular romantic drama Idhayathai Thirudathey (IT) that premiered on February 14, 2020, has successfully completed 800 episodes. Navin Kumar, the lead actor of the show, has taken the opportunity to convey his gratitude to the cast and crew and fans. Navin, Hima Bindhu, Aazhiya and others cut a customised cake and celebrated the special occasion. Kushmavathi, director and other crew members also took part in the celebration.

Senthil Ganesh and Rajalakshmi set for a Navratri special cameo:

Popular show Idhayathai Thirudathey is also celebrating Navratri and the makers of the show have have left no stone unturned to up the entertainment quotient of the show. Folk singers Senthil Ganesh and Rajalakshmi are making a special cameo in the show. The episodes featuring Senthil Ganesh and Rajalakshmi will go on air from today (October 11). They will feature as guests (themselves) who visit the Shiva aka King's (Navin Kumar) house for Navratri. According to the story, Navin Kumar organises a Navratri special exhibition at his house and invites special guests Senthil Ganesh and Rajalakshmi to surprise his estranged wife Sahana (Hima Bindhu). Shiva, Sahana and their daughter Aishwarya (Aazhiya) and others have a blast during festival. Actor Rithiesh shared a few pictures with the celebrity couple and co-stars from the special shoot. This cameo appearance in Idhayathai Thirudathey marks Senthil Ganesh and Rajalakshmi's acting debut, too. Earlier, they participated in the show Super Singer season 6. Senthil emerged as the winner of the season. On the work front, the couple are busy with their singing career and music shows. Earlier, Senthil has acted in movies like Thirudu Pogatha Manasu and Karimugan.
Latest Update:
Latest UPDATE@ https://www.wikinewforum.com/showthread.php?p=550392

TV show Idhayathai Thirudathey has some extra dosage of entertainment in store for the viewers. A special episode called Idhayathai Thirudathey Kalyana Kondattam will be aired today (April 19). Lavanya Manickam and other actors of the show are all excited about it.


In the upcoming episodes of Idhayathai Thirudathey, Shiva (Navin Kumar) and Sahana (Hima Bindhu) make special arrangements for Aishwarya's grand wedding. Under unexpected circumstances, Thatchayini gets Shiva arrested. Later, Thatchayini creates a huge chaos and stops Aishwarya's wedding. Thatchayini then forces Aishwarya to marry her son Sethu. Following this, what transpires in the show form the major crux of the story in the upcoming episodes.

Idhayathai Thirudathey completes 400 episodes; Navin Kumar, Karthiga and others thank fans

Actress Lavanya aka Lavanya Manickam has joined the popular romantic show Idhayathai Thirudathey and she is all excited about it. Lavanya took to her social media handle to share her excitement.

Actor Karthik Sasidharan aka Subarnan, who is know for his performance as Ilango in the romantic drama Idhayathai Thirudhathey, has bid farewell to the show as his character has come to an end. Karthik has confirmed the same in his latest Instagram post in which he thanked everyone for the love and support.
Star Cast:
Idhayathai Thirudathey features Lavanya (as Aishu), Hima Bindhu (as Sahana), Navin Kumar (as Shiva), Karthiga (as Valli), Jay Srinivas Kumar (as Parthasarathy), Sam (as Sethupathi), Nilani (as Thatchayini) and others.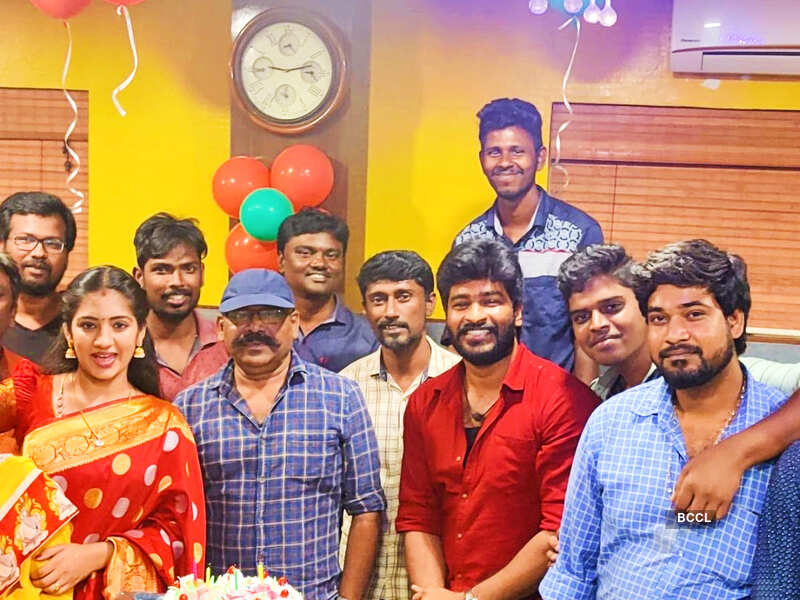 Idhayathai Thirudathey completes 400 episodes; Navin Kumar, Karthiga and others thank fans (Photo - Instagram)
Popular romantic drama Idhayathai Thirudathey, which premiered on February 14, 2020, has completed 400 episodes. Actors Navin Kumar, Karthiga and others, who play prominent roles in the show, took to their respective social media handles and thanked the fans.
Team Idhayathai Thirudathey is delighted to have crossed such a major milestone. The artists and the crew members cut cakes and celebrated the special occasion in a grand manner.


Karthiga wrote, "Congratulations to the whole team... happy to reach the 400th episode thanks to producer Mam & channel.... Special thanks to director Rk sir and dop karthik... Will reach more heights with all your support.... Finally to the idhayathai Thirudadhe fans you guys are always motivated us...Keep support us& keep watch... Love you all
@idhayathaithirudadhey_it @idhayathaithirudatheyserial_fc @karthik_sasidharan17 @navinactor_official @navinbindhu143_toronto_canada @himabindhu____ @sivakavithaa005v @all_in_all_ananthan @meenakshimuruha @nilani1604official @riya_official46 @sam_actor.official @deepan_zak @domnick_s @rajeshactor_official (Sic)"


Navin Kumar wrote, "Love you all (Sic)"


Idhayathai Thirudathey has been winning the hearts of the audience with its interesting storyline. Team Idhayathai Thirudathey celebrated the first anniversary of its airing of the show with a grand party, a few weeks ago.