Mandira arranges everything for Dithi's 'Bhat Kapor' ceremony. Chotu's father highly praises their new bahu Dithi. It makes Mandira anxious anticipating that it might not go well with Kakoli, who is already upset. She asks her husband to stay quiet and let the ladies perform the rituals.



Dithi and Chotu are getting married. Sreemoyee and Rohit shoulder all the responsibilities. The pre-wedding rituals start. Rohit blesses soon-to-be-married Dithi and gifts an expensive jewellery, It makes Dithi all emotional. She misses her dad and gets emotional. She repents her ill-treatment towards him. Rohit is performing all the duties of a father while Dithi's biological dad Anindya hasn't attended the function. He explains that Dithi is his daughter, too. When Sreemoyee blesses Dithi, she starts crying recalling all her past behaviour. She misbehaved with Sreemoyee on several occasions. Hemlata explains how a mother can never stay away from her child no matter what he or she has done. A poor Hemlata can relate to this current situation. Family members arrange a Sangeet ceremony. Chotu and Dithi get all decked up. Arna and Chotu's sister start the ceremony with a dance. Rohit and Sreemoyee engage in a romantic conversation which doesn't go unnoticed by Antara. She, along with other friends, catches the couple. They all tease Sreemoyee and Rohit. Sreemoyee starts blushing. Antara and Dinka request Sreemoyee to sing a song just like she used to do in college. Sreemoyee sings a beautiful song. The guests enjoy the song.


Rohit and Sreemoyee speak about their dreams. Their scheduled trip gets delayed because of back-to-back incidents. First Aditya felt unwell, now, Dithi is getting married. Sreemoyee wants to spend more quality time with Rohit who has been diagnosed with a critical disease. They have suffered a lot in their respective lives. Most of their lives, they both had different responsibilities. While Sreemoyee blames her ill luck, Rohit asks her not to be gloomy. He assures, they will get a chance to spend quality time in the future. Deep down, Sreemoyee is worried about Rohit, who might not survive long. She sheds tears stating her helplessness. Rohit asks her not to lose hope but stay strong. Sreemoyee regrets the time they have lost and talks about those days. She could have been happy with Rohit rather than having an unhappy married life with Anindya. Rohit tries his best to boost Sreemoyee's confidence. He asks her not to regret anything and rather look forward. Sreemoyee had a struggling life in the past. The bitter experience makes her sad. Rohit requests her to forget it and look forward. He emphasises the fact that they have bright days ahead. The couple spends some emotional moments. Rohit hugs Sreemoyee and tries to console her. A helpless Sreemoyee finds solace in Rohit.


Dithi gets robbed; Chotu rescues her: Dithi is in her clinic at Madhabpur when some goons attack her. They tie her up and rob the money she had kept for their wedding. Chotu is on his way to meet Dithi at the clinic. Sreemoyee and Rohit become restless as Dithi hasn't come back home. Dinka blames Dithi for her irresponsible nature. Hemlata gets an opportunity to humiliate Sreemoyee and claims she couldn't give her child proper values. Hemlata also talks about the fact that Dithi sometimes stays back at Madhabpur at her would-be husband's place. Rohit defends her. Chotu reaches the clinic and gets shocked seeing Dithi tied to a chair. Before he could rescue her, the goons attack him. But Chotu bravely faces them. He catches one of the dacoits and finds out he is a local guy. When Chotu and Dithi threaten to call police, the guy promises her to give the money back. As Hemlata raises questions on Sreemoyee's guidance as a parent, Rohit gives some apt reply to Hemlata, whose children didn't take care of her. Hemlata finally realizes her fault. She talks about her married life and how she was abused by her mother-in-law. She also confesses that she repeated the same treatment with Sreemoyee. Dithi, who runs a clinic in the village, recalls how she is being paid for all her good deeds. The goon realises his fault and promises to give Dithi's hard-earned money back. On the other hand, Hemlata too realises Sreemoyee's worth.

Sreemoyee: Protagonist Sreemoyee shares her story with the audience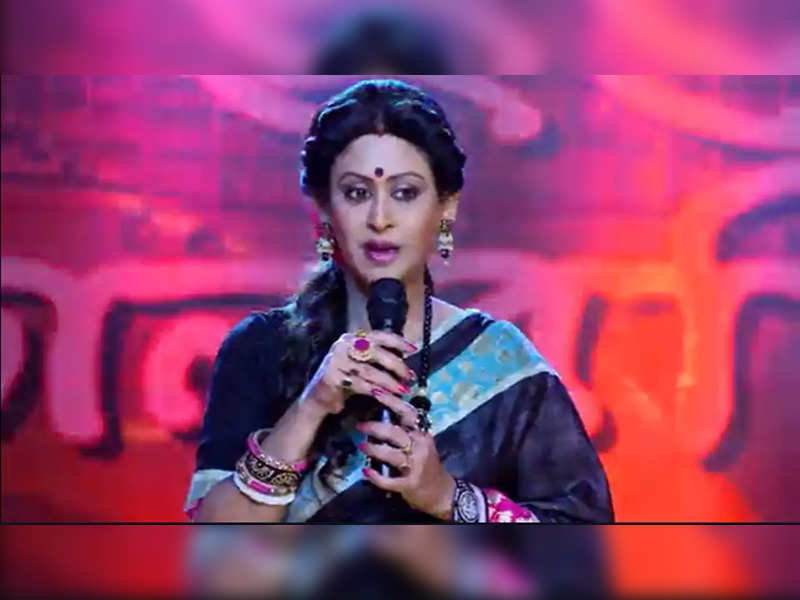 In the latest episode of Sreemoyee, Rohit arranges for a function. He forces June to apologise to Sreemoyee for humiliating the latter.
Later, Sreemoyee and Dinka perform a song together. The audience enjoys her song while June can't stand it. The viewers laud Sreemoyee and her performance.

The host asks Sreemoyee to speak about her journey. Initially, Sreemoyee feels shy but she eventually starts speaking about her life. She takes a walk down the memory lane. Sreemoyee shares how she was always shy. During her college days, Antara once forced her to perform on stage. She was frightened but somehow sang a song. Rohit was the general secretary of their college and a senior, too. He watched her performance and later wished to speak to her. Sreemoyee was too shy to speak with him. Soon, her parents fixed her wedding with Anindya who had a good job.
She coincidentally met Rohit before the wedding. He asked Sreemoyee about her preparation for the final exam. But Sreemoyee informed that she won't be able to appear for the same because she is getting married. Their meeting ended on a sad note.

Sreemoyee later told everything to Antara on the day of her wedding. While sharing all these, Sreemoyee mentioned how her one wrong decision changed her life for the worse. Antara had scolded her for getting married to Anindya instead of Rohit.

Antara too shares how much she was disappointed by Sreemoyee's decision. While Sreemoyee and Antara share all the incidents, Rohit listens to this. June doesn't like the fact that the audience is sympathizing with Sreemoyee.

About the show:

Sreemoyee is an Indian Bengali serial airing on Star Jalsha and is also available on the digital platform Hotstar.

It is produced by Magic Moments Motion Pictures Pvt. Ltd of Saibal Banerjee and Leena Gangopadhyay, which premiered on 10 June 2019.


Bengali television serial 'Sreemoyee', which has been remade in six other languages.
Major Incidents, Events:
Sreemoyee-Anindya's divorce.

His sudden weakness for ex-wife

Rohit Sen's entry

Patralekha revolting against her beloved June to the latter being sent to jail
Start Cast:
Indrani Halder -

Sreemoyee Sengupta (Main Female Protagonist)


Sudip Mukherjee -

Anindya Sengupta (Parallel Lead)

Ushasie Chakraborty -

June Guha (Main Antagonist)

Saptarshi Maulik -

Pratyush Sengupta (Supporting Male Protagonist)

Tota Roy Chowdhury -

Rohit Sen (Parallel Male Lead)
Story:
As a doting, caring mother, wife and daughter in law, Sreemoyee, a middle-aged housewife, takes care of her family without any expectations.

However, on knowing that her husband Anindya cheated her, having an affair with his colleague June, initially she becomes heart broken but soon she realises and sets out to create a new identity for herself while June starts creating troubles for her.


She divorces with Anindya while he marries June. She also gets support from her college love Rohit Sen. The story follows how she tackles the problems caused by June and becomes a successful business women in ethnic fabric and handicrafts.

Sreemoyee's story will feature a time leap as well. Following the leap in time, Dinka will be seen as an established singer, wanting to start a fresh life with Arna. Dithi will be shown as a doctor and awaiting Chotu's release. Anindya will be more concerned about his family.


Sreemoyee, on the other hand, will have ample time for herself and want to live life to the fullest.

It will be interesting to see whether she starts anew with Rohit just like how most of the viewers want. In fact, Leena keeps getting letters from the audience who want Sreemoyee to marry Rohit.

It will be interesting to see whether the latest twist of time leap helps the show score well on the TRP charts.
Remade:
Kannada - Inthi Nimma Asha

Marathi - Aai Kuthe Kay Karte

Malayalam - Kudumbavilakku

Telugu - Intinti Gruhalakshmi

Hindi - Anupamaa
Tamil - Baakiyalakshmi