TV actor Akhil Sarthak, who got closer to the telly audiences with Bigg Boss Telugu 4, is set to get an inch closer to fans.
Latest reports reveal that Akhil will turn a host for a special show very soon. According to sources close to the actor, Akhil will host an award ceremony in a leading General Entertainment Channel (GEC) and interestingly, he will share the stage with three other leading TV hosts as well, sources suggest.

Akhil is all excited about his new avatar on TV which will be unveiled very soon. Further details about the show and its telecast are awaited at the moment.
Meanwhile, rumour mill has it that Akhil is likely to enter Bigg Boss Telugu season 5 as a wild card contestant. However, an official confirmation is awaited at the moment. He has already come in support of his Kalyani co-star Priya, who is currently the captain of the BB house.


On the other hand, he has recently wrapped up a shoot for an ad in Mumbai and shared a picture with the team thanking them for the experience. Akhil is also busy with the shoot of his debut film as the male lead. The first look of the film was already out.
Latest News:

Lord Ganesha's idol in Khairatabad, Hyderabad, is quite popular and actor Akhil Sarthak, who got closer to the masses with Bigg Boss Telugu season 4, will pay a visit to Khairatabad Ganesh pandal very soon. He has recently come out in support of Shailaja Priya, who is currently one of the contestants nominated for eviction in the second week.



Bonalu, one of the widely celebrated festivals of Telangana, has been memorable yet again. Former Bigg Boss Telugu contestants like Rahul Sipligunj, Akhil Sarthak, Syed Sohel Ryan, and Sujatha have been a part of the celebrations this time. Bigg Boss Telugu 4 runner-up Akhil Sarthak also attended a Bonalu celebration in the city. He along with his BFF Syed Sohel Ryan was also spotted at the celebrations grooving to the native teenmaar. Close sources reveal that the celebrations lasted till the wee hours of Tuesday. Videos of Akhil and Sohel dancing their hearts out amid a huge crowd are doing the rounds on social media. On the career front, Akhil is gearing up the shooting schedule of his debut film as the male lead. The film shoot is finally resuming after it had to stall due to the second wave of COVID-19 and subsequent lockdown.
Latest Update, Post Bigg Boss Life Details.

Setting the record straight on Friendship Day, Akhil and Monal reiterate that they're not dating but share a special bond of friendship. "The bond that Monal and I share is even better (than dating). We're the best of friends and trust each other blindly. The kind of understanding and rapport that we have with each other is truly special," shares Akhil. Agreeing, Monal says, "The best part of my friendship with Akhil is that it's so effortless. Neither of us have to do any grand gestures to let the other person know that we care about them. I know that he's just a phone call away and that I can count on him to be there for me."

Bigg Boss Telugu 4 runner-up Akhil Sarthak will soon feature in Ohmkar-hosted Sixth Sense season 4 which was recently launched. Akhil is likely to give a special performance in the upcoming episode along with his BFF Monal Gajjar. As per the latest reports, Akhil will sing over five songs in a specially dedicated segment and he is currently rehearsing for his performance. Akhil will shoot for the episode tomorrow (June 26) as well.
Akhil Sarthak won Hyderabad Times Most Desirable Man on TV 2020-2021: "This is the best news I've heard. I must admit I was disappointed when I didn't win the Bigg Boss title. To come so close and not win it is hard. So when you tell me that I'm the Hyderabad Times Most Desirable Man on TV, it takes me back to that moment when I was on stage while the winner is being announced. ఇది నేను విన్న ఉత్తమ వార్త. నేను బిగ్ బాస్ టైటిల్ గెలుచుకోనప్పుడు నేను నిరాశకు గురయ్యానని అంగీకరించాలి. అంత దగ్గరగా వచ్చి గెలవకపోవడం కష్టం. కాబట్టి నేను టీవీలో హైదరాబాద్ టైమ్స్ మోస్ట్ డిజైరబుల్ మ్యాన్ అని మీరు నాకు చెప్పినప్పుడు, నేను వేదికపై ఉన్నప్పుడు విజేత ప్రకటించబడుతున్నప్పుడు నన్ను తిరిగి తీసుకువెళుతుంది.

Akhil Sarthak, who shot to fame with Bigg Boss Telugu season 4, wished his parents who are celebrating their 39th wedding anniversary with an adorable post. Sharing a video of his parents cutting a customised cake, Akhil wrote, "Happy 39th wedding anniversary mom and dad the beautiful couple forever - బిగ్ బాస్ తెలుగు సీజన్ 4 తో ఖ్యాతి గడించిన అఖిల్ సార్థక్, తమ 39 వ వివాహ వార్షికోత్సవాన్ని జరుపుకుంటున్న తన తల్లిదండ్రులను పూజ్యమైన పోస్ట్*తో కోరుకున్నారు. తన తల్లిదండ్రులు అనుకూలీకరించిన కేకును కత్తిరించే వీడియోను పంచుకుంటూ, అఖిల్ ఇలా వ్రాశాడు, "39 వ వివాహ వార్షికోత్సవ శుభాకాంక్షలు అమ్మ మరియు నాన్న అందమైన జంట ఎప్పటికీ


On the career front, Akhil has been busy with the shooting of his debut film as a male lead before the lockdown due to COVID-19 second wave. He has launched the first look of his film and the shoot schedule of the film in Goa concluded recently. His Instagram handle has clocked over 600k followers and Akhil thanked fans for all their love and support.

Akhil Sarthak wishes BFF Monal Gajjar on her birthday with an adorable post; says, "I heard stories about queen but saw her in my real life" - Actress Monal Gajjar of Bigg Boss Telugu 4 fame turned a year older today (May 13). Her BFF Akhil Sarthak took to his Instagram handle to wish Monal on her birthday with a lengthy and adorable post. He shared a few pictures of them together and expressed his love for her in this post.




Happy Ram Navami 2021: Akhil Sarthak, Indraneel and other celebs send out best wishes to fans

Akhil Sarthak celebrates BFF Syed Sohel Ryan's birthday in advance; gifts him a watch

Akhil Sarthak and other TV celebs send out best wishes to birthday boy Allu Arjun

BB Telugu 4 runner up Akhil Sarthak owns a swanky new bike; shares pictures and thanks fans for the love

BB Telugu 4 fame Monal Gajjar's reply to BFF Akhil Sarthak's 'don't dare to leave me' caption is too adorable to be missed

Bigg Boss Telugu 4 winner: Actor Abhijeet Duddala wins the trophy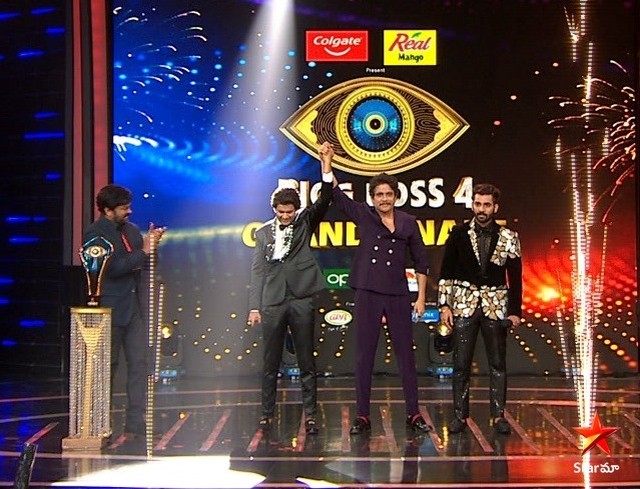 The much awaited grand finale of Bigg Boss Telugu 4 hosted by Nagarjuna Akkineni has concluded and actor Abhijeet Duddala emerged as the winner of the fourth season.
It was an eventful and gala grand finale with some sizzling performances by the ex-contestants, actresses Pranitha Subhash, Mehreen Pirzaada, Raai Laxmi, Thaman S and some heartwarming emotional moments.

Much against the aspirations of a lady Bigg Boss winner, Abhijeet was crowned as the winner of season 4 with a vote bank sufficient enough to put him at the top of the table. Sohel decided to quit the show accepting Rs. 25 lac cash prize. Our recent poll also confirmed the same with over 58% respondents voting for Abhijeet as the winner.

Abhijeet is known as the 'Mr. Cool' of the show. His calm demeanour, ability to read the game, shrewd gameplay and composure was widely acclaimed. His idea to kidnap Divi in the Robots vs Humans task for his team to have an edge in the task is considered as his first master stroke in the show. His trick to steal the stars in the BB hotel task backfired though. He was one of the most nominated contestants of the season, too. His complicated equation with Monal and rivalry with Akhil have kept him in the limelight constantly. His friendship with Harika and Noel deserves a special mention. His performance in physical tasks throughout the season earned him flak on social media where he enjoys a huge fan following, too.

Interview on winning Hyderabad Times Most Desirable Man on TV for 2020:
How does it feel?

I'm in a state of shock. I was thinking about winning this title and I really wanted it to happen. So I'm overjoyed that it has actually happened. Last year, when I entered the Bigg Boss house, many of my co-contestants referred to me as 'most desirable man' because I had made it to number 6 on the list last year. At the time, all I could think was how nice it would be if I really could be the Most Desirable Man. And it has finally happened today. I couldn't be happier.

From being number 3 in the list of Hyderabad Times Most Desirable Men in 2018, number 6 in 2019 to finally winning it this year, it has been quite a journey for you.

When I came down to number 6 from number 3 in 2019, I didn't look at it as a demotion. Instead, I took it as a motivation to work harder on my fitness, my body and groom myself even better. I wanted to be number 1 because this tag of being the Most Desirable Man on TV matters a lot to me. Being a part of the Hyderabad Times Most Desirable TV list in the last couple of years opened up new doors for me, it was the reason I was invited to the Bigg Boss house. I feel this title is a sign that I'm heading in the right direction and is a stepping stone for greater things to come.

What do you think helps you stand out from the rest in terms of desirability?

I feel desirability is not just about good looks. Hard work, willingness to improve yourself, attitude, charm — everything matters. Even your emotions matter. I'm straightforward and honest and I do what my heart tells me to do. I think this quality helps me stand out from the rest.

To keep working hard on your body during the pandemic must've been a challenge?

Indeed it was. When the lockdown was first announced in March 2020, I was shattered. I'm still at the start of my career and I don't have any godfather so my heart stopped for a second when the pandemic struck and everything shut down. My only focus was about motivating myself and moving forward. Even when gyms were shut, I worked out at home for three hours every single day to make sure I was in good shape. Let's face it, for an actor today, good looks and having a good body matters. Being well-groomed is very important. Back in 2013/14 I know I was not very good looking so opportunities were very scarce. I knew that I had to work hard on myself and groom myself to look better if I have to land better opportunities. Since then my effort has been relentless.

What do you find desirable in a woman?
Being unique and not trying to copy anyone. I like women who focus on themselves rather than constantly compare themselves to others. Honesty is very important. I have serious trust issues. Either I trust someone fully or I don't trust them at all. If someone lies to me, it's a huge turn off.

All your female fans want to know if our Most Desirable Man on TV is single or has someone stolen his heart?

(Laughs) They needn't worry. I'm single right now.

You're also making your Tollywood debut this year. That must be another huge milestone for you?

Yes, it's a big moment for me. It's a new-age film on relationships with a young director and I'm really excited about it. It's an experimental film and half of it was shot on the beach. The audience will see a totally new version of me and I can wait to see what people make of it. We have already shot about 10 per cent of it but had to pause due to the lockdown. Our initially plan was to release the film in October but it might get pushed further now due to the COVID-19 pandemic.

You're a popular actor on television, you've made a splash on Bigg Boss, you're making your Tollywood debut and are now Hyderabad Times Most Desirable Man on TV. What's next?

Gosh it feels so good when I hear you say that I'm the Most Desirable Man on TV. Now I want to win the Most Desirable Man in Hyderabad title next. That's my next goal and I want to work hard towards it. Whether it happens or not is not my in my hands but I'll give it my 100 per cent. The rest is destiny.