Tushar Shetty and Florina Gogoi win the title : Finally the Super Dancer Chapter 4 title has been won by Florina Gogoi (Jorhat, Assam) and Super Guru Tushar Shetty. The Top Five finalists apart from Florina who were competing for the title were Esha Mishra (New Delhi) and Super Guru Sonali Kar, Sanchit Chanana (Punjab) and Super Guru Vartika Jha, Pruthviraj (Belgaum, Karnataka) and Super Guru Subhranil Paul, Neerja (Hoshangabad, MP) and Super Guru Bhavna Khanduja — are competing for the coveted trophy. The grand finale of, 'Nachpan Ka Maha Mahotsav,' not only saw the Super 5 finalists perform one last time but also saw the presence of eminent personalities from the Bollywood industry like rapper Badshah, ace choreographer Terence Lewis, and one of the most popular anchors and dancer Raghav Juyal! Apart from this Super Judge Shilpa Shetty Kundra owned the stage with her dance performances and boosting the confidence of the Super 5 finalists and their Super Guru's will be Super Judges Geeta Kapur and Anurag Basu and the hosts Rithvik Dhanjani and Paritosh Tripathi aka Mama ji also was seen shaking a leg to some entertaining Bollywood numbers! We congratulate Florina and Tushar for their win.
Latest Update:

Today Episode.


Ganpati Special of 'Super Dancer - Chapter 4' to feature Sanjay Dutt this weekend - Sanjay Dutt entering the show with a Ganpati idol. The contestants will be seen performing on some of his most famous chartbuster hits taking him down memory lane. Sanjay seen taking the stage.

Additionally, this weekend there will also be an announcement of Super 10 contestants who will go ahead as the competition progresses. Who from among the 13 contestants will be a part of Super 10?

Actress Madhoo Shah will be the special guest on dance reality show 'Super Dancer: Chapter 4' for a 'Madhoo Special' episode on Sunday. Spriha and 'super guru' Sanam Johar will be seen presenting an emotional act on the song, 'Roja'. Depicting a beautiful father-daughter relationship, Spriha and Sanam perform with so much emotion that it leaves the judges and Madoo emotional. Madhoo said: "What should I say? I somehow feel that this is my story. My father was a single parent. He raised me and we had the best family. Today, he is not with us but the bond between a father and daughter is something you can't imagine. My brother went to America, but I was always there with him and refused to ever leave him. Today, I have my own family, but I still miss him every day. I was my father's hero! Your performance touched my heart in every way."

Actress Shilpa Shetty Kundra will perform a 'Kanjak Pooja' for contestant Arshiya after her dance act on Vaishno Devi in the dance reality show. 'I am very spiritual and a devoted Devi bhakt. I have had the opportunity to visit the Vaishno Devi temple once and the experience was very inspiring. After seeing this act today, I want to perform a 'kanjak pooja' for Arshiya'
Shilpa Shetty who was judging the TV show Super Dancer and had taken a break after her husband Raj Kundra's arrest in the por*ography case on July 19, has resumed shooting for the show, returned after almost three weeks.

Bollywood actress Sonali Bendre seen making an appearance on Super Dancer Chapter 4. The actress will be gracing the show as a guest along with yesteryear beauty Moushumi Chatterjee. The actress looked gorgeous in a wine coloured t-shirt and trousers which she teamed up with a long brown jacket. Interestingly, the long jacket that she wore on the show was 20 year old and she was wearing it after almost two decades. It is designed by ace designer Rohit Bal and the actress also shared a throwback picture in which she was seen wearing the same jacket posing with Rohit Bal and Shah Rukh Khan.

Super Dancers 4 did approach Bollywood actress Raveena Tandon

to fill in for Shilpa Shetty, who has made herself non available because of the case against her husband Raj Kundra going on.

Shilpa Shetty not likely to return to Super Dancer for a couple of weeks;

Moushumi Chatterjee & Sonali Bendre to appear as special guests - Moushumi Chatterjee, who did films like Balika Badhu, Roti Kapda Aur Makaan, Swarg Narak, Piku and Angoor among others, will be part of a TV show after a long time. Moushumi will be seen next Saturday on August 7. Sonali Bendre has judged shows like Indian Idol 4, India's Got Talent, Hindustan Ke Hunarbaaz. She had to opt out of India's Best Dramebaaz in 2014 after she was diagnosed with cancer. She will appear on Super Dancer 4 as a special guest next Sunday on August 8.
Riteish Deshmukh and Genelia D'Souza this weekend as they celebrate the '

Shaadi Special'

episode. Bollywood's one of the cutest couples will be seen dancing, enjoying and sharing funny and love-filled stories. Contestants, along with their super gurus will be seen dancing to the tunes of some popular chartbusters.

Karisma Kapoor Special Episode. All the contestants will be seen performing on Karisma's chartbusters and paying a tribute to the spectacular actress with an effervescent personality. Contestant Pari and super guru Pankaj performed on one of Karisma's iconic songs – Aaye Ho Meri Zindagi Mein Tum Bahar Ban Ke and projected a beautiful bond between a grand-daughter and a grand-father through their dance. An elated Karisma stated that she was reminded of her own bond with her grandfather and she remembered him through this act.

Karisma Kapoor won't be replacing Shilpa Shetty as a judge:

In the wake of Shilpa Shetty's husband Raj Kundra getting arrested on charges of making alleged por*ographic content and publishing it on mobile apps, news of the Bollywood diva not appearing as the judge of reality show Super Dancer 4 were doing the rounds. ETimes TV has learnt that rumours of Karisma Kapoor replacing Shilpa Shetty in the show are not true. Karisma Kapoor is not going to play the new judge in Super Dancer. Sources close to Karisma said, "The actress is not doing the show and she was just a guest judge on one of the episodes of the show."

Special episode: Celebrated vetran actor and Kajol and Tanisha Mukherjee's mother Tanuja

, this is the first time Tanuja is seen as a guest on any television reality show.



Special weekend, will host the versatile, evergreen and effervescent actress Neetu Kapoor seen celebrating her journey through some mesmerizing performances, contestants dancing to the tunes of Neetu Kapoor's chartbusters. The yesteryear actress will be seen climbing the 'seedhi', sharing many anecdotes.

Special Episode: Kumar Sanu with the singing maestro himself
Sanam Johar has had to quit the show under unforeseen circumstances. Sanam and Spriha's one of the best Jodi of Super Dancer and continues to receive a lot of love. Jodi had to quit the show. Spriha has injured herself and she couldn't perform anymore and hence, couldn't continue. It can be recalled that Sanam had to quit the show last year as well while his partner for that season was Jay.
Special Episode: Bollywood actors Govinda and Neelam Kothari reunited after 20 years for an episode.
Shilpa Shetty Kundra returns to the show. In honour of her comeback, the contestants put up a fine act expressing how much they missed her. Bollywood actor, Suniel Shetty also joined her as a special guest.
Folk-fusion special - The talented kids on Super Dancer - Chapter 4 have been putting their best foot forward under the mentorship of their respective super gurus leaving the audience awestruck this week nothing short of a visual spectacle, with the contestants bringing to life folk-fusion dance forms from across our country with a distinct rendition of their own strengths.
Terence Lewis joins contestant Sprihaa to perform with her on stage this weekend judges - Geeta Kapur and Anurag Basu will be accompanied by guests Malaika Arora and Terence Lewis. While all the dance performances amazed all the four judges, there was one contestant that compelled Terence to get on stage and perform with her. Sprihaa Kashyap from Assam stunned the judges with her contemporary dance performance on the song 'Janam Janam' along with super guru Sanam Johar.

Malaika Arora

steps in for Shilpa Shetty as a judge on Super Dancer - Dance reality show Super Dancer 4 relocated to Daman last week. Judges Shilpa Shetty and Anurag Basu opted out of the show for a couple of weeks citing personal commitments. Remo and Farah Khan stepped into their shoes last week and shot from Mumbai. After the relocation, however, now Anurag is back with Geeta as a judge, but Shilpa will take some more time to return. Hence the makers have roped in Malaika Arora, who will step in for Shilpa.

Remo D'souza is spellbound by contestant Sanchit's act challenges him to do an impromptu dance on the song 'Bezubaan' - Getting a 'seedhi' ovation from a judge is the penultimate gesture of appreciation for any constant of Super Dancer Chapter-4. And contestant Sanchit Chanana's electrifying act forced two judges, including Remo S'souza, to climb the ladder. The talented boy, together with his 'guru' Vartika, grooved to Shah Rukh Khan and Malaika Arora's iconic number 'Chhaiya Chhaiya'. The song was originally choreographed by Farah Khan, who is judging the show for an interim period alongside Remo
Shwetha-Pratiti to Akash-Aneesh – 5 best performances from the grand premiere week - Super Dancer Chapter 4 began recently and is already winning hearts. The show judged by Shilpa Shetty, Anurag Basu and Geeta Kapoor has been doing well on the TRP charts. The recent grand premiere episode grabbed all the attention as all the contestants performed with their respective gurus. The splendid duo performances left us stunned.


Remo D'Souza and Farah Khan join Geeta Kapur to judge the show


The talented bunch of kids have paved their way into the hearts of the judges – Shilpa Shetty Kundra, Anurag Basu and Geeta Kapur, and the audience will see Remo D'Souza and Farah Khan as special guests, who will judge the show alongside Geeta Kapur. The Super 13 contestants will put their best foot forward on the dance floor while accepting the 'no props challenge week'. Remo D'Souza and Farah Khan are mighty impressed with the phenomenal talent and extraordinary acts on the show.

Super Dancer Chapter 4 Grand premiere episode: The contestants and the choreographers will be giving grand performances together. Amidst all the dance acts, Mumbai contestant Aneesh Tattikota and choreographer Akash Shetty nailed their performance as they danced their way through a remixed track of 'Allah Duhai Hai' from Race 2.


Shilpa Shetty lauds contestant Anshika's mother to help pursue her dreams; says, 'You're the best example for all the mothers'

Dance reality show, Super Dancer is a loved kids' dance reality show. After entertaining the audience with three seasons, the makers returned with Super Dancer, Chapter 4 which promises 'Nachpan Ka Tyohaar' where the audience is witnessing the celebration of dance in all its glory by the immensely talented kids in every episode. This weekend, Super Dancer 4 will showcase its grand premiere weekend, wherein the viewers will witness the mind-blowing performances of Super 13 kids with their 'gurus' (teachers). In the upcoming episode of Super Dancer 4, the 10-year-old contestant Anshika Rajput from Madhya Pradesh, along with choreographer Aryan Patra will win over the judges' hearts with their brilliant dance moves and mesmerising performance on 'Ghoomar'. Impressed by their dance, the three judges will give them a standing ovation.

Remember Soumit Barman from reality show 'Dance Dance Junior' whom Mahaguru Mithun Chakraborty used to fondly call as 'Pundibari'? Well, the kid is making his way from Bengali television to a national platform. 'Dance Dance Junior' runner-up Soumit has cracked the final audition of 'Super Dancer Chapter 4' starring Shilpa Shetty, Anurag Basu and Geeta Kapoor as the judges. He has entered the competition by securing his place among the top 13 contestants. Soumit is from Pundibari, Cooch Behar. His sharp dance moves, expression, and dedication left the judges impressed just like how he stole Mithun's heart with his very first performance in the show. Mithun predicted the kid would make everyone proud. He used to fondly call Soumit 'Pundibari' which later became his pet name in the competition.


Filmmaker Anurag Basu, who has several hit films under his name, has been associated with the show Super Dancer for three consecutive seasons. After three successful seasons, he is back on the judges' panel to review kids' dancing talent from across the nation. Super Dancer – Chapter 4 commences on March 27 presenting exceptional dancers to enthrall the viewers

Super Dancer Chapter 4 is all set to go on air from Holi; the promo promises 'Nachpan Ka Tyohaar'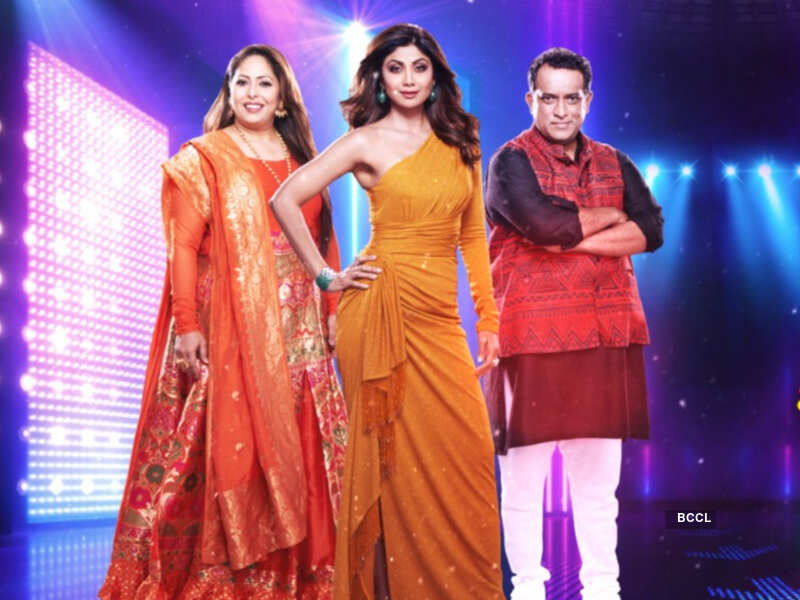 About the show: Season 4, Year 2021-2022:
The reality dance show, Super Dancer Chapter 4 is all set to go on air from the festival of colours, Holi. Super Dancer, a show that has enjoyed three consecutive successful seasons, will be back on the small screen, with a new season, Super Dancer – Chapter 4.
Judges:
It will continue with its prestigious panel of judges Geeta Kapur, Anurag Basu and

Shilpa Shetty Kundra

, along with the dynamic duo, hosts Paritosh Tripathi aka beloved Mamaji and Rithvik Dhanjani. They are all set to witness the best kids' dancing talent from across the country.

Remo D'souza and Farah Khan have briefly replaced Anurag Basu and Shilpa Shetty on this reality show, which airs every weekend at 8: 00PM.

Dance reality show Super Dancer 4 relocated to Daman last week. Judges Shilpa Shetty and Anurag Basu opted out of the show for a couple of weeks citing personal commitments. Remo and Farah Khan stepped into their shoes last week and shot from Mumbai. After the relocation, however, now Anurag is back with Geeta as a judge, but Shilpa will take some more time to return. Hence the makers have roped in Malaika Arora, who will step in for Shilpa.

About Season 4:
This fourth chapter unfolds from March 27, every Saturday and Sunday at 8pm. The show also promises to bring alive # NachpanKaTyohaar – a celebration of dance in all its glory, promising to engage one and all in its festive fervour.

Shilpa Shetty Kundra says "There has never been a moment when I've not been excited to be sitting on the judge's chair of Super Dancer. For me, we are all one big happy family... the camaraderie between the judges is unmatched & rare in times like these, and it's such an honour to witness the ingenuity of some of the country's most amazing talent. My happiness undoubtedly is Super se bhi Uparrr. Needless to say, the show is extremely close to my heart and I can't wait for the fourth season to begin already."
Telecast, Repeat Telecast, Episodes:
Super Dancer goes on air every weekend at 8 pm only.

Sony TV

Watch SonyLiv @ Click Here

WikiPedia Here

Contestants:
Sanchit Chanana

Pruthviraj and Subhranil

Aneesh and Akash

Pratiti and Swetha

Neerja and Bhawna

Amit and Amardeep
Super Dancer winner name list Of All Seasons
Super Dancer Season 1 – Ditya Bhande, She is the winner of the very first season of the show, she got a hefty amount of cash prize which was Rs.15 lakh whereas the first runner up and second runner up also got some cash prize money, also the season one was huge success.
Super Dancer Season 2 – Bishal Sharma,

Bishal Sharma won the second season of the show he have left the judges heartfelt by his performance and amazing journey in the show, he won the trophy and cash price of Rs.15 lakh he belongs to Assam and he is 22 year old.

Super Dancer Season 3 – Rupsa Batabyal,

After the success of two season the third was one of the most awaited one where Rupsa Batabyal won the show and she is only 6 years old she belongs Kolkata and she also won the cash prize of Rs. 15 lakh.
Kids get a great golden opportunity to participate in the show and start a good dance career in their dancing field the show have provide the best platform, the show have successfully find their winner of 3 season. So lets check out the complete details Super Dancer winner name list Season 1 to till.