Here are the ladies who've made it to Chennai Times 20 Most Desirable Women on Television 2020. Supremely talented, with a huge fan following to boot, these divas ruled the telly world, and how!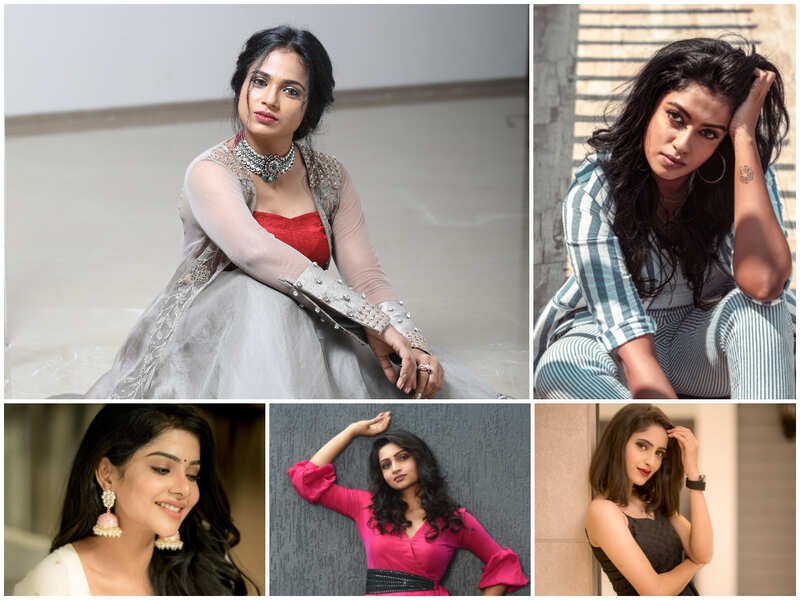 1. Ramya Pandian
If there's one thing that strikes us about Ramya Pandian the minute we meet her, it's her unassuming personality. She comes across as a girl-next-door, oblivious to the charm she exudes on her audience — be it as the resilient Malli in the National Award-winning film Joker, or the Ramya that stirred up a storm in the kitchen, and in the living room, in the reality shows Cooku With Comali and Bigg Boss Tamil 4. In fact, it's this heady mix that's landed her the title Chennai Times Most Desirable Woman On Television 2020.

2. Roshni Haripriyan
Claim to fame: After dabbling in short films and ads, Roshni became a household name after her show Bharathi Kannamma struck a chord with the audience. Relationship status: With a super busy shoot schedule, guess she has no time for a relationship!

3. Pavithralakshmi
Claim to fame: She impressed the audience with her moves in dance reality shows like Ungalil Yaar Adutha Prabhu Deva and Maanada Mayilada. Now, she's made her way to our hearts through our stomachs with her stint in Cooku With Comali. The PYT will soon be seen on the big screen as well.
Relationship status: What's the way to your heart, may we ask?

4. Nakshathra nagesh
Claim to fame: While anchoring and film assignments have kept Nakshathra busy, she also was part of Nayagi last year.
Relationship status: She got engaged to businessman-theatre personality Raghav early this year.

5. Ayesha
Claim to fame: She's beauty, brawn and brain, all rolled into one, in the show Sathya that she headlines.
Relationship status: We hear this 'rowdy baby' has found her 'Amul Baby'!






6. Shivani Narayanan
Claim to fame: A known name in the telly world, Shivani showcased her real self in the reality show Bigg Boss 4 and earned more bouquets than brickbats.
Relationship status: She gives two hoots to link-up rumours while she enjoys being single.

7.Alya Manasa
Claim to fame: If Raja Rani's Semba made her a popular name amongst telly audience, the show's second season has only increased her popularity. Apart from acting in several other serials, the talented actress also ventured into the indie space with a single.
Relationship status: Alya, husband Sanjeev and daughter Aila make for a picture- perfect family.

8. DhivyaDharshini
Claim to fame: She's been television's darling for over 20 years, and her wide repertoire — serials, reality shows, talk shows, awards shows, and even films and music videos — speaks volumes about the magic she's worked on her audience. Last year, DD was super busy hosting a couple of fun reality shows, including Speed Get Set Go.
Relationship status: DD is madly in love. With her career, guys!

9. Kiki
Claim to fame: One of the most sought-after anchors on television, as well as for awards nights, Kiki Vijay has had a super busy 2020. Apart from hosting shows, she also ventured into the indie space by directing and acting in #KoCoNaKa and several other fun series with husband Shanthnu Bhagyaraj. Relationship status: She and Shanthnu are total #couplegoals.

10. Chandini Tamilarasan
Claim to fame: After a memorable stint in Kollywood, Chandini debuted on the small screen with Thaazhampoo in 2019, and continues to work her magic on the audience through her 'doubly' impressive performance in Rettai Roja.
Relationship status: Chandini and Nanda's marriage is the stuff of fairytales.

11. Anjana Rangan
Claim to fame: Marriage and motherhood can't stop a woman from achieving her career goals, and VJ Anjana is a testimony to it. The talented host, who returned to the small screen after a short hiatus, has been part of several popular shows since, including Dance Jodi Dance 3.0. She's also quite an influencer on social media.
Relationship status: She and hubby, actor Chandramouli, are doting parents to their little one, Rudraksh.

12. Chaitra Reddy
Claim to fame: She may be playing the antagonist in Yaaradi Nee Mohini, but Chaitra continues to remain a hot fave among TV fans. She was also seen in Poove Poochudava last year, and we hear that a big K-Town debut is also on the cards.
Relationship status: She is living her dream life with husband, fimmaker Rakesh S Narayan.

13. Priyanka Kumar
Claim to fame: After an impressive debut in the Kannada telly world with Krishna Tulasi, and following it up with an equally impressive performance in the show Radha Ramana, Priyanka forayed into Tamil television industry with the show, Chocolate. Now, she's busy with the show, Kaatrukkenna Veli.
Relationship status: She's busy ruling her fans' hearts, yo!

14. Vidya Pradeep
Claim to fame: Who says actresses can't dabble in both the big screen and television at the same time! Look at Vidya Pradeep, who's juggled multiple films and an equally successful show, Nayagi, at the same time!
Relationship status: She's fiercely private about her personal life.

15. Asha Gowda
Claim to fame: Asha debuted on the small screen with the show Gokulathil Seethai, and continues to wow the audience with her straight-from-the-heart performance as Vasu, a simple girl determined to realise her dreams.
Relationship status: She's yet to find the man of her dreams.

16. Shabana Shajahan
Claim to fame: Popular among her fans as Shabbo, Shabana's stint on the small screen as Sembaruthi's Parvathi continues to win hearts.
Relationship status: With a flourishing career keeping her busy, who has the time for a relationship!

17. Delna Davis
Claim to fame: Delna became a familiar name in Kollywood after being part of films like 49-O and Kurangu Bommai. But it's her performance as Bhoomika in Anbe Vaa that made her a household name.
Relationship status: Acting, cooking and travelling, we hear, are her three true 'love's. So fellas, you know what you need to do to impress her!

18. Shreya Anchan
Claim to fame: Though Shreya started her career in the Kannada industry, acting in both films and shows, she soon became Tamil Nadu's darling, thanks to her strong performance in shows like Thirumanam and Anbudan Khushi.
Relationship status: Shreya and her Thirumanam co-star Sidhu are #relationshipgoals.

19. Samyuktha
Claim to fame: A model, Samyuktha has worked in films and TV shows before becoming enga veettu ponnu with the reality show, Bigg Boss 4. A super cool dancer, fitness enthusiast and a social influencer, she is the queen of many trades.
Relationship status: Her adorable son Rayan completes her life.

20. Hima Bindhu
Claim to fame: Her debut TV show Idhayathai Thirudathey touched the 500-episode mark recently. Need we say more about her popularity?!
Relationship status: It's status single for namma Sahana!