Latest Update/News:


'Devatha' secures third position in the TRP charts: Popular daily soap Devatha has improved its viewership in the previous week, suggest the latest TRP report. The show featuring Arjun Ambati, Suhasini, and Vaishnavi in the lead roles has recently showcased the wedding of Aditya (Arjun) and Satya (Vaishnavi) after Rukmini (Suhasini) sacrifices her husband (Aditya) and leaves with her daughter. This sequence has apparently worked in favour of the show and helped it rake in more TVRs thereby replacing yet another popular show Guppedantha Manasu in the third spot.


10 years leap:

Rukhmi kid (girl) is now 10 years now. and both are staying in Madhava's family.


New Plot:

రుక్మిణి ఒక ఆడ శిశువును ప్రసవించింది మరియు వారి అభ్యర్థన మేరకు మాధవ కుటుంబంతో కలిసి ఉండటానికి ఆమె అంగీకరిస్తుంది. ఆదిత్య ఐఎస్ఐ అధికారి అయ్యారు. Rukmini delivered a baby girl and she

agrees to stay with Madhava's family at their request

. Adithya became ISI officer.

Satya's pregnancy secret unfolded to everyone. సత్య ఎలా గర్భవతి అవుతుందో ఇప్పుడు అందరికీ తెలుస్తుంది మరియు రుక్మిణి ఇల్లు వదిలి వెళ్లిపోతే ఆదిత్య సత్యను వివాహం చేసుకుంటది. దేవూడమ్మ తన డిమాండ్ను ముందుకు తెచ్చినప్పుడు ఆదిత్య మరియు సత్య షాక్ అవుతారు. తరువాత, వారు వివాహం చేసుకున్నప్పుడు కుటుంబం ఉల్లాసంగా అనిపిస్తుంది, కాని సత్య తన బిడ్డను కోల్పోవడంతో ఆదిత్య కుటుంబం హృదయ విదారకంగా ఉంది. Everyone gets to know how Satya gets pregnant and

Rukmini leaves house by thinking if she leave then Adhitya will marry to Satya.

Adithya and Satya get shocked when Devudamma puts forth her demand. Later, the family feels elated when they get married but

Adithya's family is heartbroken as Satya loses her child.

Nanda Plot: సత్య ఆత్మహత్యకు ప్రయత్నిస్తుంది కాని నందను రక్షించింది. అతను సత్యతో పాటు అందరికీ కనిపిస్తాడు మరియు సత్య గర్భధారణకు తాను బాధ్యత వహిస్తానని చెప్తాడు సత్యతో సహా అందరూ షాక్ అయ్యారు. ఆదిత్యను వినాశనానికి గురిచేసే నందా ప్రకటనకు సత్య అంగీకరిస్తుంది. తన నకిలీ ఒప్పుకోలు గురించి ఆదిత్య నందను ఎదుర్కుంటాడు మరియు నందా తన రహస్యాన్ని కాపాడటానికి ఆదిత్య నుండి డబ్బును డిమాండ్ చేస్తాడు మరియు అతను కోరిన మొత్తాన్ని ఇవ్వకపోతే దేవూడమ్మ మరియు రుక్మిణికి నిజం వెల్లడిస్తానని బెదిరించాడు. ఇంతలో, దేవూడమ్మ నంద మరియు సత్యలను వివాహం చేసుకోవాలని యోచిస్తోంది. రాజేశ్వరి నందను పిలిచి, దేవూడమ్మ కుటుంబాన్ని నాశనం చేయడానికి అతనితో ఒప్పందం కుదుర్చుకుంటాడు. కనకం / కాంతమ్మ (రంగ భార్య) దేవూడమ్మకు వంపు-ప్రత్యర్థిగా పరిచయం చేయబడింది, కానీ ఆమె రుక్మిణికి సహాయం చేసింది. రుక్మిణి కాంతమ్మ ప్రణాళికను అమలు చేసి, నందా యొక్క నిజమైన రంగులను తెలుసుకోండి, కానీ దేవదుమ్మకు తెలియజేసే ముందు, రాజేశ్వరి దేవూడమ్మను అవమానించాడు మరియు నందా యొక్క ప్లాట్లు చెబుతాడు కాబట్టి దేవూడమ్మ సత్యను ఇంటి నుండి విసిరివేస్తాడు. ఈ పరిస్థితిలో రుక్మిణి మరియు ఆదిత్య కూడా నిస్సహాయంగానే ఉన్నారు, కాని తరువాత దేవూడమ్మ పట్టణం నుండి బయటకు వచ్చినప్పుడు రుఖ్మి సత్యను ఇంటికి తిరిగి తీసుకువెళతాడు. Satya tries to commit suicide but rescued by Nanda and he say he is responsible for pregnancy everyone including Satya shocked. Satya agrees to Nanda's statement which leaves Aditya devastated.

Aditya confront Nanda about his fake confession and Nanda then demand money from Aditya to guard his secret and further threaten to reveal the truth to Devudamma and Rukmini if he doesn't give the amount demanded.

Meanwhile, Devudamma is planning to get Nanda and Satya married.

Rajeshwari will summon Nanda and make a pact with him to ruin Devudamma's family.

Kanakam/

Kanthamma

(wife of Ranga)

introduced as an arch-rival to Devudamma but she helped Rukmini. Rukmini execute

Kanthamma's

plan and get to know true colors of Nanda but before informing to Devudamma,

Rajeswari insults Devudamma and tells Nanda's plot

so

Devudamma throws Satya out of the house. Rukmini and Aditya also remain helpless in this situation but later Rukhmi gets Satya back to house when Devudamma out of town.



Rajeshwari Entry: Rajeshwari confrontS Devudamma. The two will have a face-off in a meeting about the upcoming religious ritual Brahmotsavalu. Rajeshwari will want to have a personal talk with Devudamma for which the latter stays reluctant. The two share a rocky relationship and are back to settle their scores. Their meeting has created enough tension and suspense amongst the society members.

Satya's Birth Secret: Bhagyamma will reveal Satya's birth secret that Satya is not her biological daughter and the latter lost her parents due to a reckless act by Rukmini during childhood. Later

Satya is going to learn her birth secret.

Satya pregnant: Vasanth is about to get engeged with satya but she bump into Vedavathi at the hospital and learn the bitter truth from her.

Devudamma stopped Satya and her family from leaving the village and brought the former home.

She took Satya along with Rukmini and Aditya on a brief getaway to Pondicherry.

Aditya will move on and realise the value of his wife Rukmini.

Basha will discover evidence of Aditya and Satya's past relationship later

Kamala too.



Rukmini Married: She get married and wins everyone's hearts by bringing change in her mother-in-law Devudamma except Aditya as he loved her sister Satya.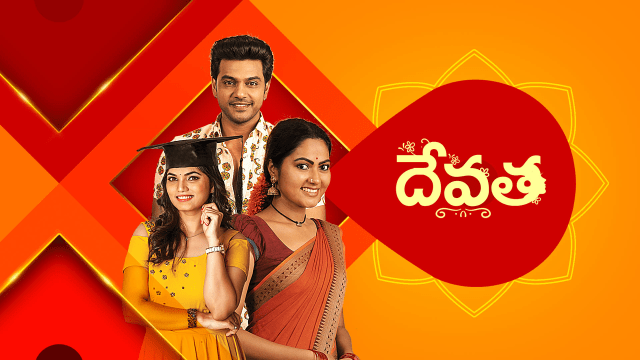 Story, TV Show is about:
The show deals with the story of Rukmini, a village belle who is married into a well off family. Both Rukmini and her younger sister Satya fall in love with the same guy, Aditya. However, he has feelings for Satya but fate has other plans for him.


Nanda had feelings for Satya during college but the latter was in a relationship with Aditya. However, he got married to Satya's elder sister Rukmini under unavoidable circumstances. Satya chose to move on but she learns of her pregnancy during her engagement ceremony. She is pregnant with Aditya's child but she guarded the secret until she was forced to reveal it recently. At this juncture, Nanda entered the scene and claimed to be the one responsible for Satya's pregnancy. Now, Devudamma, Rukmini and Bhagyamma want to get Satya married to Nanda.
Telecast, Repeat Telecast, Digital OTT:
Airs on Star Maa from Monday to Saturday and also streams on Hotstar.
Star Cast, Crew:
Devatha features Suhasini, Arjun Amati and others in the leads.

Suhasini playing lead role of a daring and dashing village girl, who can even challenge the strongest man in the village.

Male lead of the show Aditya Krishna. The names of the rest of the cast members are.
Unknown Facts, Interesting Facts, Controversies:
Suhasini was last seen in popular daily soap Girija Kalyanam. She made her debut on TV screens which show Aparanji. Stick around here to get the latest updates from the new show.
TV screens on the 17th of August. The TV show will broadcast from Monday to Friday at 8:30 PM

Review &
TRP:
Devatha daily serial has been entertaining the TV audiences ever since its launch. The show is currently listed in the third position in the recently released TRP chart.

The show is sustaining its viewership despite stiff competition from shows like Guppedantha Manasu and Trinayani.