Latest Update:


Veteran actress Helen Special Episode: The stage has welcomed a number of Bollywood stars in the recent past. Keeping the tradition alive, 'Dance Dance Junior Season 2' is set to welcome yet another Bollywood star into the show. Veteran actress Helen will soon appear in the dance reality show which is inching towards its grand finale. The actress flew down to Kolkata to shoot for the finale. It was indeed a rare moment as the stage witnessed Helen welcomed to the stage by none other than Mahaguru Mithun Chakraborty. This is the first time, Helen is featuring in a Bengali show. It was a fan moment for judges Dev and Monami Ghosh who were thrilled to meet the special guest.


Sunny Leone Special Episode:

The stage is set to welcome yet another Bollywood biggie soon besides Sunny Leone. Choreographer-turned-filmmaker Remo D'Souza, will soon be seen in the reality show 'Dance Dance Junior Season 2'.
Bollywood sensation Sunny Leone will appear on the show. Sunny flew to Kolkata to shoot for a special episode of the show which will be aired soon. This is the first time she will be seen in a Bengali television show. She is having a busy inning in Hindi reality television, besides featuring in movies and web projects.

Dance Dance Junior Season 2 set to showcase traditional dance forms of Bengal - "Banglar Joyogaan – the special two episodes of Dance Dance Junior Season 2 will be a colourful portrayal of Bengal and its rich cultural heritage

Special episode: The little dance masters are ready to showcase their dance s****s in a special episode this week. In the mythology special episode, the dancers will be seen taking the avatars of Lord Krishna, Shiva, Durga, Kali and other god and goddesses.



Dance Dance Junior season 2 to air special episodes featuring Bollywood superstar Anil Kapoor - Reality show 'Dance Dance Junior' is set to have a power-packed episode soon. Bollywood actor Anil Kapoor will be seen on Bengali TV for the first time. Last month the actor shot for the special episodes of 'Dance Dance Junior Season 2', as reported by ETimes TV. Tolly heartthrob Dev enjoyed a fan moment as he shared the screen with our very own 'Mr. India'.

The stage is set to welcome Bollywood actress-turned-politician Urmila Matondkar. The charming actress set the stage ablaze with her sizzling dance performance. It was indeed a special moment as the 'Rangeela girl' spoke in Bengali, shook her leg with guest judge Jisshu U Sengupta, and cheered for the young participants of the show. Here are some BTS pictures from the shoot…

Popular reality show 'Dance Bangla Dance' is all set to entertain the audience. While the show is likely to welcome Bollywood actor Govinda as a judge, sources suggest, there are a few other surprise elements too.

About the show, Season 2021:
The popular dance reality show, which will welcome participants from different age groups this season, will have two new judges in the panel. Industry sources suggest superstar Jeet is going to be a part of the show too. Not only that, Subhashree Ganguly is likely to join Jeet as a judge.

Reality show 'Dance Dance Junior Season 2', starring Mahaguru Mithun Chakraborty, Dev, Monami Ghosh and Jisshu U Sengupta is set for a gala episode. Actress Urmila Matondkar will grace the reality show as the special guest. The actress, who proved her acting mettle in versatile roles, came to Kolkata recently to shoot for the upcoming episode. She set the stage ablaze with her grooving moves and perfect expressions during the shoot. The contestants paid a tribute to Urmila by performing on her hit numbers. The actress-turned-politician was in complete awe after seeing the spectacular performances by the young contestants. She praised the little dancing stars for their flawless dancer performances which can leave any professional dancer perplexed.

Reality show 'Dance Dance Junior Season 2' is gearing up for a starry affair. Ever-charming actress Raveena Tandon recently came to Kolkata to shoot for a special episode which will be aired this weekend. While the talented dancers left the special guest impressed with their performances, Raveena set the stage on fire with her sizzling moves. She also had the chance to catch up with Mahaguru Mithun Chakraborty. Here are some behind-the-scenes photos from the sets of 'Dance Dance Junior Season 2'
Judges: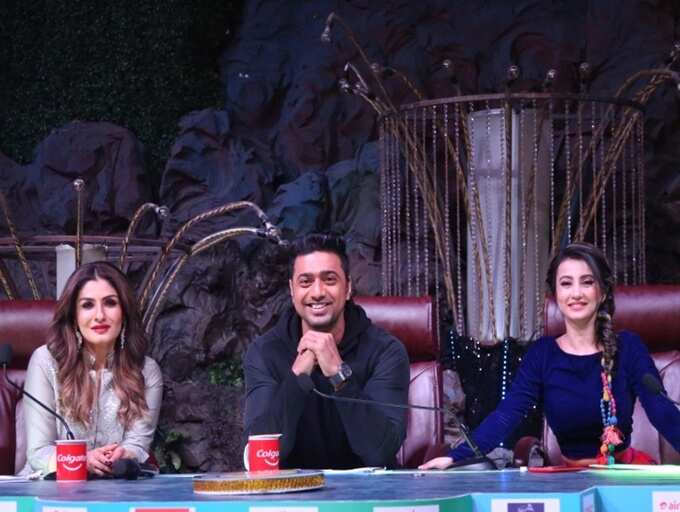 Here's a cute photo of Raveena posing with judges Dev and Monami.

Special Guests joined Judges for Special Episodes:
Recently Anil Kapoor joined.

Prior to this, the stage had welcomed Raveena Tandon and Urmila Matondkar.


Actress Debashri Roy and Rituparna Sengupta also graced the show as the special guests.
Contestants, Participants, Dancers:
Contestants Adwitiya Basu Roy, Anish Roy, Sukdev, Madhumita Roy, Rittika Chatterjee, Soumajit Pal, Piyush, Param-Srija, Roshan-Rohit, Sudam

Every week, the young dancers set the stage on fire with their spectacular performances. From Indian classical dance forms, folk dance to Salsa, Hip hop, contemporary, the young dancers showcased their versatility