Latest Update:

Pookkalam Varavayi inches towards its climax

episode

; Will Abhi and Samyuktha's story see a happy ending, The show will air the climax episode on Sunday (September 26). Pookkalam Varavayi fans are thrilled about the much-awaited climax. Samyuktha is initially seen suffering from a mishap and Abhimanyu is seen helping her. Abhi is also spotted confronting his mother for making his wife suffer. Glimpse of a Thali tieing ceremony of Abhi and Samyuktha, which hints at a happy ending for the show.
Interestingly, even before the climax of the show, there is a huge buzz on Mridhula's next project. She will be soon seen playing the main protagonist in the show 'Thumbapoo'. Further updates on the show are awaited.


Ardra Das replaces Arathy Sojan in 'Pookkalam Varavayi'
Ardra Das replaces Arathy Sojan in 'Pookkalam Varavayi'
About the show:
Pookkalam Varavayi (transl. Flowers are coming) is an 2019 Indian Malayalam-language television series which premiered on 1 July 2019 on Zee Keralam and ZEE5 digitally. It stars Mridula Vijay and Arun G Raghavan in lead roles. This show is the remake of Zee Telugu series "Varundhini Parinayam", aired since 2013 to 2016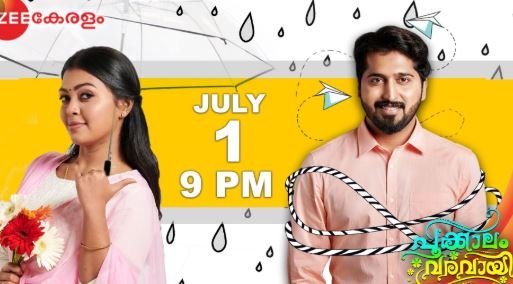 Story, About the show:
Pookalam Varavayi is a Malayalam TV drama series about Samyuktha, an innocent girl, and Abhimanyu, a misogynist. Will they fall in love or will Abhimanyu get married to Nithya?

After a two-month break, the serials of ZEE Keralam are starting afresh with new content. The seven serials that were already running successfully in the channel will start its telecast from 1 June onwards.
Star Cast:




Mridula Vijay Nishma chengappa as Samyktha Abhimanyu[3] Second daughter of Yatheendran and Parvathy; Sharmila and Rajashekharan's daughter-in-law; Sapthathi, Samvurtha, Sarayu's sister; Abimanyu's wife

Arun G Raghavan as Abhimanyu Rajashekharan Sharmila and Rajashekharan's adopted son; Yatheendran and Parvathy son-in-law; Harshan, Madhuri, Ashokan's brother; Samyuktha's husband.
Telecast:
Zee Keralam said that the new serial would be a different experience for the audience and hoped that the Malayalam version of the serial would get the same attention and welcome it had received in the other regional channels across the ZEE network.

The other serials in the channel, Thenali Raman, will be at 5.30 pm in the evening followed by Sindooram at 6 pm. Chembarathi, the top serial in the channel, will be at 7 pm and Neeyum Njanum, the unique love drama, will air at 7.30. The serial with a unique tomboy lead that garnered many fans due to its unique portrayal of Satya Enna Penkutty will be at 8 pm followed by Pookkalam Varavaayi at 8.30 pm and Sumangali Bhava at 9.30 pm.

ZEE Keralam has said that it was a very difficult time for the entertainment industry in Kerala. The Covid2019 crisis affected the smooth functioning of shoots and the subsequent lockdown had left all channels with a shortage of fresh content. With the recent ease in the lockdown rules, ZEE Keralam has resumed shoots while strictly sticking to the shooting protocols put forward by the government.
Adaptations:
Telugu - Varundhini Parinayam వరూధినీ పరిణయం

Tamil - Poove Poochudava பூவே பூச்சூடவா

Kannada - Gattimela ಗಟ್ಟಿಮೇಳ